LuSH currently use our own designed reusable shoe tags . These are strips of polycarbonate that have a Velcro pad at their ends to aid fixing to create a loop. They are usually picked up at race registration on race day together with the runner's Bib No in an envelope for ease of distribution. RDs may distribute our instructions for correct loop fixing. Being reusable and to help reduce costs, we ask RDs retrieve them after the race.
RDs may request that chip tags are stuck to the reverse of Bib Nos. This method is not so eco-friendly as the LuSH shoe tags and we believe not always as responsive. Passive chip tags require 'free space' to surround the chip tag and so the tag should not lie against metal or the human body for successful recognition. On hot summer days or when the runner is going for a long hard sprint, body heat may cause the Bib No to 'stick' to their vest and body resulting in a 'non-read'.
We also supply special chip tags for use in cycle events and positioning of the tags is provided here .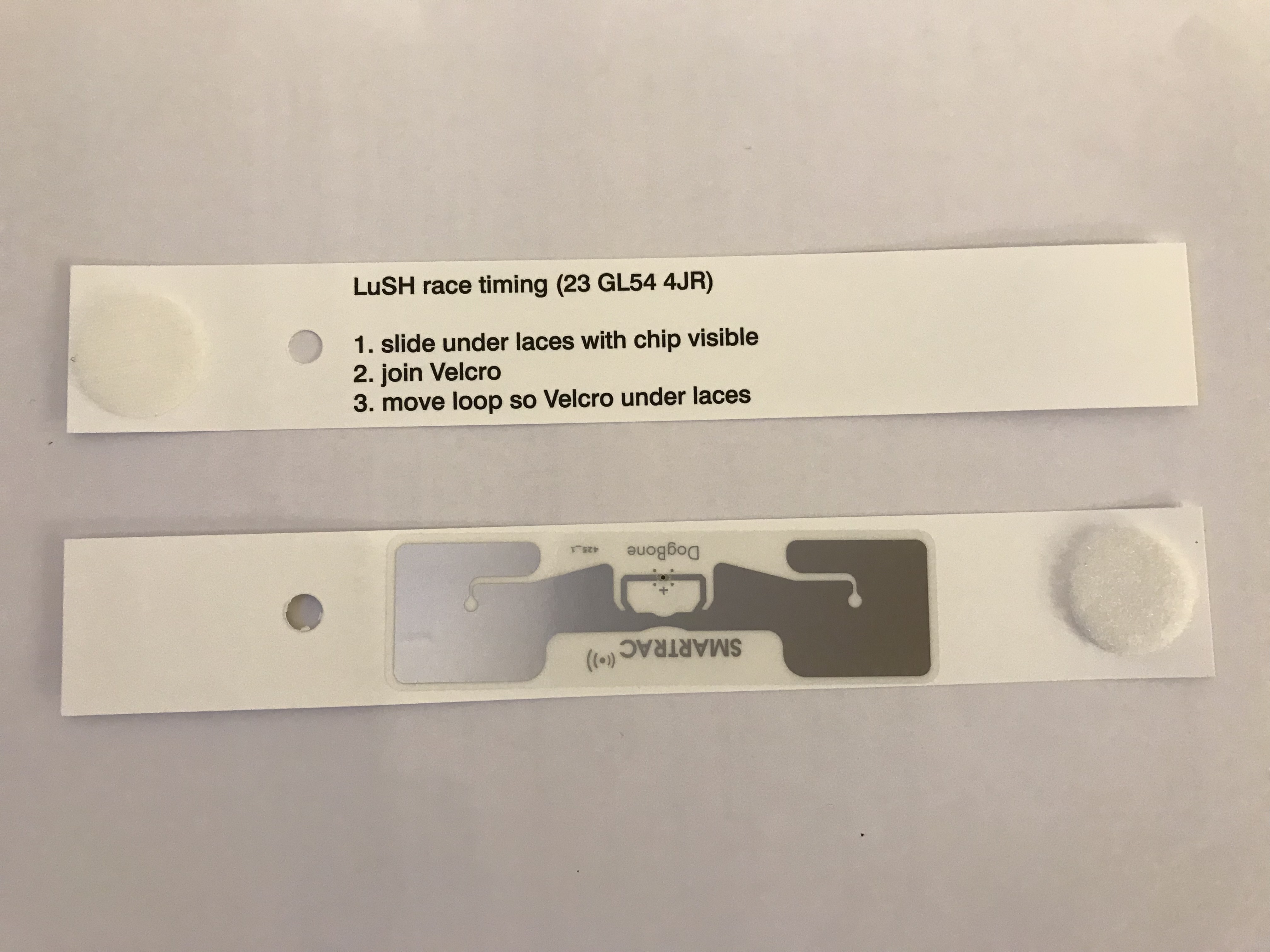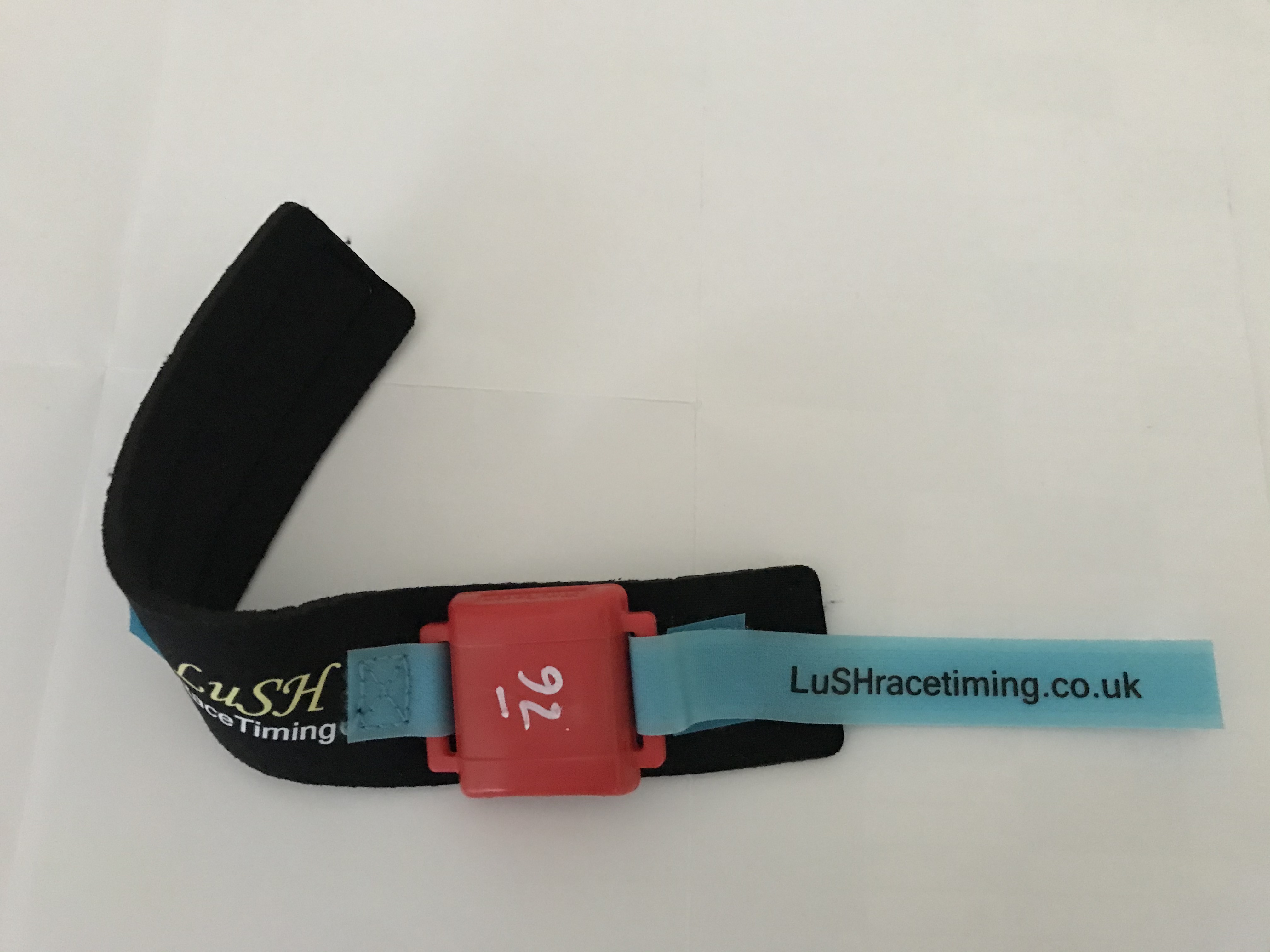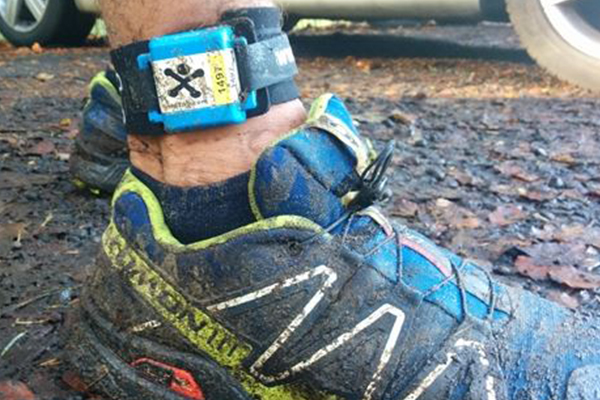 LuSH also provide RDs with an alternative chip tag method called HuTags. These are specialist passive devices attached to neoprene that the runner wraps around their ankles. You will have seen these used in water sports such as triathlons or even cyclo cross events. These are not disposable and will require volunteers from the RDs organisation to retrieve them just after the finish..
Gun-chip or chip-chip timed ? This is the RDs decision. Both types of race will wear chip tags and runners will be timed as they cross the finish line : "chip-chip" simply means that runners will be timed as they cross the start time as well, so their eventual race chip time will be the exact time they took to race the distance. So, for the runners starting at the front, they will have chip times very similar to their gun times and for those runners taking 20 seconds, say, to cross the start line, this will be reflected in their chip time being 20 seconds faster than their gun time. If the course of the race is not one for gaining personal bests then one could suggest the race is timed as gun-chip. But if the race is a fast course or there are many runners in the race then chip-chip will give runners a more respectable race time. For races run under the UK racing bodies, gun times are used for race awards and chip times for the runner's personal bests. LuSH uses state of the art matting especially appropriate for use at the start when providing chip timed races. An array of RFID antennae or the matting can be used for the finish line. Well proven, state of the art and forever evolving software from Agee Race Timing (ART) processes the RFID equipment to generate real time race results. Chip-chip races incur an additional cost to provide the timing at the start.
Results may not be only applicable to individuals : team scoring can also be accommodated.
It is the RDs decision whether to have online registration, to permit postal entries or race day entries. It is the responsibility of the RD to provide LuSH with pre-race entries. For a popular event permitting race day entries, but especially being timed as chip-chip, it is reasonable to have a cut off time so that LuSH can make their way to the start line. If all race entries cannot be keyed in during the event, this will mean a delay to prize presentation and any kiosk generated race labels (see below) showing age category positions must be treated as provisional.
In the future, it is our intention – at race registration – for LuSH to provide a 'tag check' station. This is a facility whereby runners can check they have the correct Bib No and their registration details have been correctly entered into the race computer.
An LED clock will be positioned at the finish to give runners as well as supporters an involvement in the race promotion.
A video recording of the finish will also be taken for archival and backup purposes and may also be published with the results so runners can see themselves crossing the finish line. LuSH will also record Bib Nos at the finish.
For years, before LuSH came about, we were one of the few manual race result processors helping out at races in Gloucestershire and we prided ourselves in producing result printouts at the race. LuSH will continue to provide printouts or else provide a 'kiosk' where runners can help themselves to individual time printouts : these look very much like sales receipts, but can be stuck into one's race results handbook. Following the event, the race results will be posted online and accessed via a link from LuSH or the RDs own website.
'Live' results to an internet website may also be provided by LuSH.
Once contact has been made, the RD will need to provide LuSH with race information such as race name(s) and distance(s), location, age categories, race awards, expected race entries, date of event and start time(s), start / finish proximity, registration opening time, availability of HQ / community centre and whether mains electrical points exist. Please see example race information document
Finally, we usually do not ask for a deposit. We go a long way to make the transition from contact to race completion as smooth as possible. After all, we would like to be involved in your future race promotions.